Pure VPN Review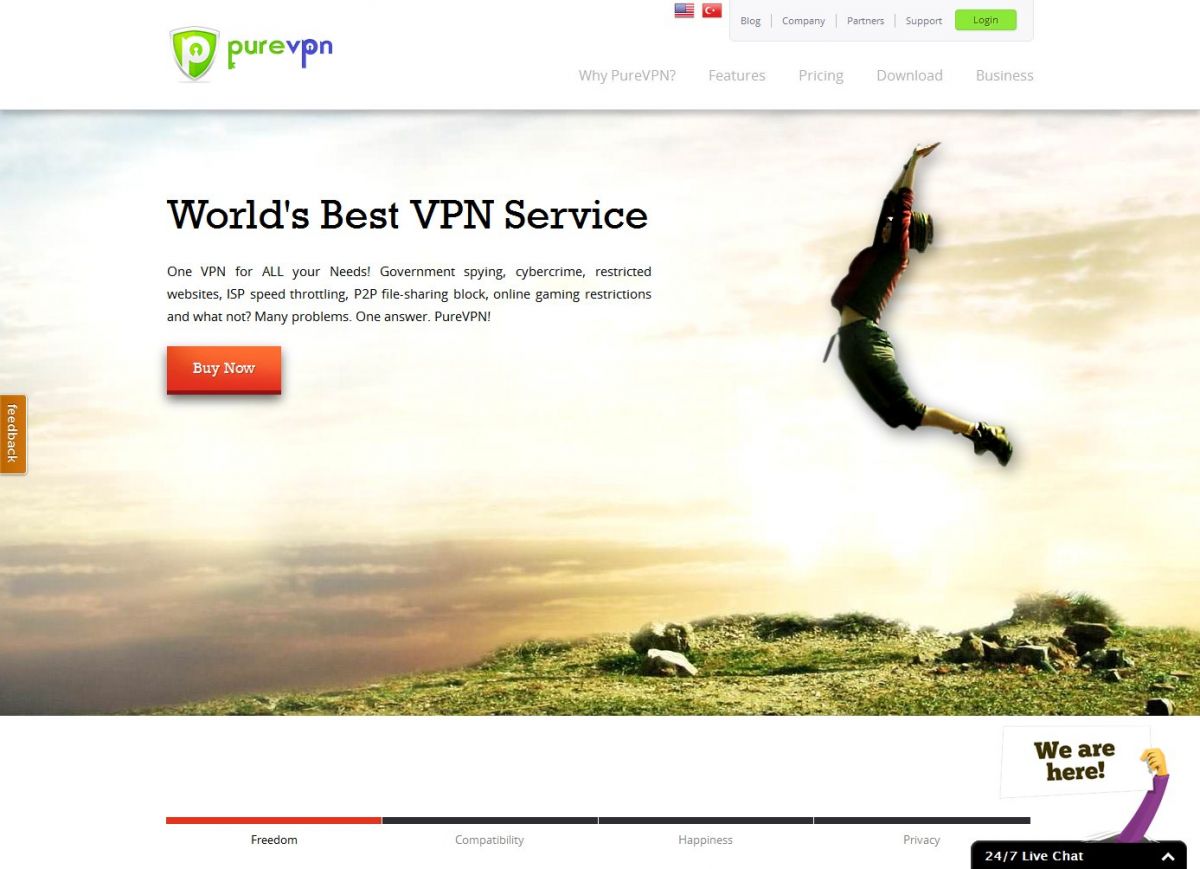 IPs
80.000+ IPs in 141+ countries
Countries
141
Servers
500
Company Location
Hongkong
Pricing

24 Months Plan: $3.29/Month (70% OFF)
12 Months Plan: $4.08/Month (63% OFF)
1 Month Plan: $10.95

Protocols
PPTP, L2TP/IPSec, SSTP, IKEv2
Max Speed
UL 33 Mb/s DL 68 Mb/s
Download Limit
no
Filesharing Details
only allowed in 60 countries
Encryption
256-bit SSL
Reconnects
no
Money Back
7 Days Money Back Guarantee (100%)
Payment Methods
Credit Card, PayPal, MoneyBookers, AlertPay, WebMoney, Bitcoin
Clients
Windows, Mac, Android, iOS, Linux, Blackberry
Filesharing
yes, on specific servers
Price from
$3.29
Logfiles
Keeps Logfiles :(
PureVPN: affordable basic VPN with add-ons
PureVPN hails from Hong Kong, a location chosen for hosting the VPN service because it has no mandatory data retention laws. The basic PureVPN plan is very affordable, especially the longer contracts, with paid options to satisfy your specific requirements. Below, we start with a description of their basic plans followed by an explanation of their advanced options.
Basic plans

PureVPN offers 2 types of subscription plans: Standard and Mobile. With the Mobile plan, you designate one iOS or Android smartphone for protection. If you want a free trial of PureVPN, the Mobile plan is your only option. The PureVPN client app that you download on your smartphone is the free Mobile version. This free version is crippled with respect to features. Specifically, you can only connect to a handful of VPN servers, and you are limited to 2 GB of data transfer per month. From the free trial, you can upgrade to the paid Mobile plan. A monthly cost of $10.95 (USD) entitles you to unlimited bandwidth and access to all VPN servers from the single smartphone.
The Standard plan enables you to connect to the VPN from Windows, MacOS, Linux as well as from the mobile platforms. PureVPN is also supported on routers, gaming consoles, and streaming media players. You can connect a maximum of 5 devices simultaneously to the VPN. Most competitors allow only 2 or 3. With the 5-device upper limit, you can connect your s
martphone, a laptop, a desktop, a game console, and your Apple TV. Most subscribers do not need to enable VPN on their router.
Subscribers to the Standard plan can connect to any of the 500+ VPN servers across 141 countries in the PureVPN network. If you are mainly interested in streaming regionally-restricted media contents, you will find that PureVPN compares favorably against its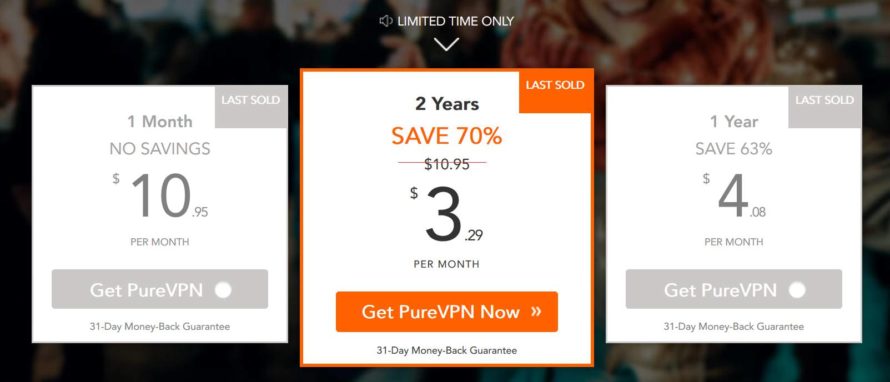 competitors regarding the number of countries with VPN servers.
Subscribers can switch between servers without limitation. So, you can connect to a foreign VPN server to watch a sports game, and switch back to a server closer to home for other Internet browsing.
According to its terms of service document, PureVPN does not cap or throttle your bandwidth, but it does have a 'fair-use' policy. In general, VPN vendors don't mind you watching videos all day, but balk at you running bots to automatically harvest data from the Internet.
File-sharing users should note that not all VPN servers support BitTorrent. For example, the servers in the following countries do not support file-sharing activities:
All PureVPN servers are configured to support the industry-standard VPN security protocols: OpenVPN, L2TP/IPSec, PPTP, SSTP, and IKEv2. This is an excellent feature available to all subscribers. Some VPN vendors only include OpenVPN, the protocol generally regarded as the most secure and fastest, in their premium subscription plans.
Even the best engineered VPN service may occasionally drop a VPN connection. When that happens, Internet traffic is redirected to the unprotected Internet connection, hence exposing you to privacy risk. File-sharing users are especially at risk if they download big torrent files unattended. PureVPN includes the kill switch feature in all its subscription plans. When the kill switch is on and the VPN connection drops, all Internet connections are immediately killed.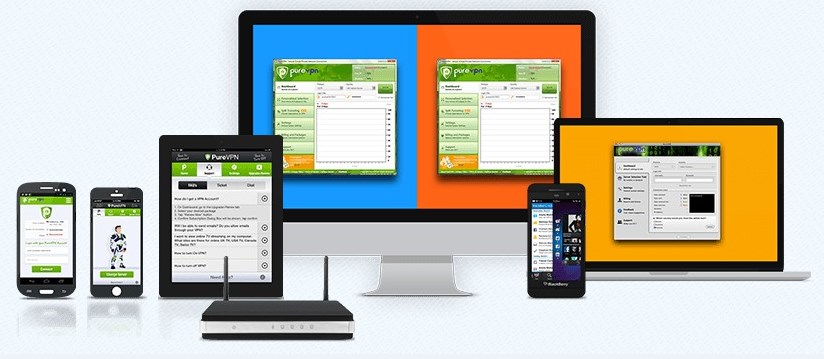 PureVPN operates its own DNS servers. This is excellent news to its security conscious subscribers. Some VPN vendors use third-party DNS services, such as Google. Although your source IP address is hidden from Google, your destination website addresses are not. PureVPN mitigates DNS-related privacy risk by running its own DNS servers.
Most VPN vendors are all-or-nothing with respect to VPN protection. Specifically, when you are connected to the VPN, ALL your Internet traffic is transmitted in the encrypted VPN tunnel. This is normally OK for most users. PureVPN offers the split tunneling feature. Split tunneling gives you finer control of which applications will actually use the VPN tunnel. For example, you can specify that only traffic generated by the Firefox browser uses the VPN tunnel. The rest of your applications will use the regular non-encrypted Internet connection provided by your Internet Service Provider.
Why is split tunneling a benefit? Keep in mind that a VPN connection is inherently slower because it needs to encrypt the data before transmitting it in the VPN tunnel. So, if you don't need VPN protection for a given application, you can enjoy the gain in speed by leaving it out of your VPN tunnel. Note that split tunneling is only supported on the Windows and Android apps.
All subscribers have access to 7x24 live chat and email support. I contacted support via live chat to clarify something for the purpose of writing this article. I was able to chat with a support agent with minimal wait. My experience with PureVPN support was pleasant, unlike that with a competitor whom I waited and waited to have a 'live' chat.
For $2.50 (USD), you can sign up for a 3-day trial of the Standard plan. Besides the 3-day trial, the PureVPN Standard plan can be had for 1, 12, or 24 months. The 24-month plan costs $3.29/Month (70% OFF). This price is among the lowest for a VPN service.
With a price that low compared to its competitors, one may ask how PureVPN can fund the research and development of its network infrastructure. First, volume helps. According to its website, it has a 'community of 1 million plus users.' Second, according to its terms of service document,
'we may, from time to time, run advertisements and promotions from Third Parties on the Website and/or the Services.'
Ads-averse users, beware of what you are agreeing to when you sign up.
Finally, PureVPN offers add-ons for additional monthly charges. We review these add-on features next.
Paid add-on options
Each of the following add-on options is priced at $1.99 per month.
Dedicated IP

With the Standard plan, your connecting device is assigned a dynamic IP address, meaning that there is no guarantee that its IP will stay the same from session to session. A dynamic IP address is sufficient for most subscribers. Yet, some may want a dedicated (static) IP address which is assigned to one specific device. A dedicated IP is very useful for high-security websites such as banking websites which are only accessible from a fixed IP address. PureVPN offers dedicated IP as an add-on. Note that dedicated IP addresses are only available for 8 countries including USA, UK, Germany, and France.
NAT firewall
A NAT firewall protects your Internet devices from unwarranted inbound traffic. Configuration of the PureVPN NAT firewall is done at the VPN server, and requires no configuration by the subscriber. Unlike some VPN vendors which offer NAT firewall as a basic feature, PureVPN charges extra for it.
Anti-DDoS
DDoS (Distributed Denial of Service) is a coordinated cyber attack to bring down an online service by overwhelming it with requests from infected computers over the Internet. Most VPN subscribers do not need anti-DDoS protection if they are using the VPN for web browsing purposes. At risk are serious gamers who may get 'DDoS-ed' by other uber-competitive gamers.
The PureVPN anti-DDoS feature is only supported on VPN servers located in 3 countries: France, Canada, and USA. When you subscribe to anti-DDoS, you get a dedicated IP address geo-located in 1 of those countries. Anti-DDoS requires no configuration on the client side. All configuration is performed on the VPN server side.
Payment methods

Once you are ready to make a purchase, you have a choice of 50+ payment methods: anonymous or otherwise. Credit cards, PayPal and Alipay (the Chinese equivalent of PayPal) are available if you don't mind disclosing personal identification information. For anonymous payment, you have a choice of Bitcoin and various gift cards from reputable retailers such as Starbucks, Walmart, and Best Buy. While some VPN vendors may accept Bitcoin, very few accept gift cards as a form of payment.
The only drawback with Bitcoin and gift card payments is that they are non-refundable. With the exception of the 3-day trial, all other plans have a 7-day money-back guarantee if you pay using one of the other payment methods. Note that the money-back guarantee is NOT unconditional. To be eligible for a refund, you must not exceed 3 GB of total bandwidth and 100 sessions within the 7-day period.
Summary & conclusion
PureVPN designed its service offering to be a la carte. You can order the very affordable Standard plan with basic features to satisfy your privacy protection and media streaming needs. If you have more sophisticated requirements such as dedicated IP addresses, and anti-DDoS, you can pay extra to add those advanced features.
Pros:
Affordable basic plans.
Split tunneling supported as part of basic plan.
Advanced options available.
Excellent support of VPN protocols.
7x24 email and live chat support.
5 simultaneous connections.
Support for Bitcoin and gift card payments.
Cons:
No free trial on non-mobile platforms.
PureVPN keeps logfiles even though they say otherwise.
Displaying advertisements is part of the usage agreement.
File-sharing supported on only certain servers.