Perfect-Privacy Review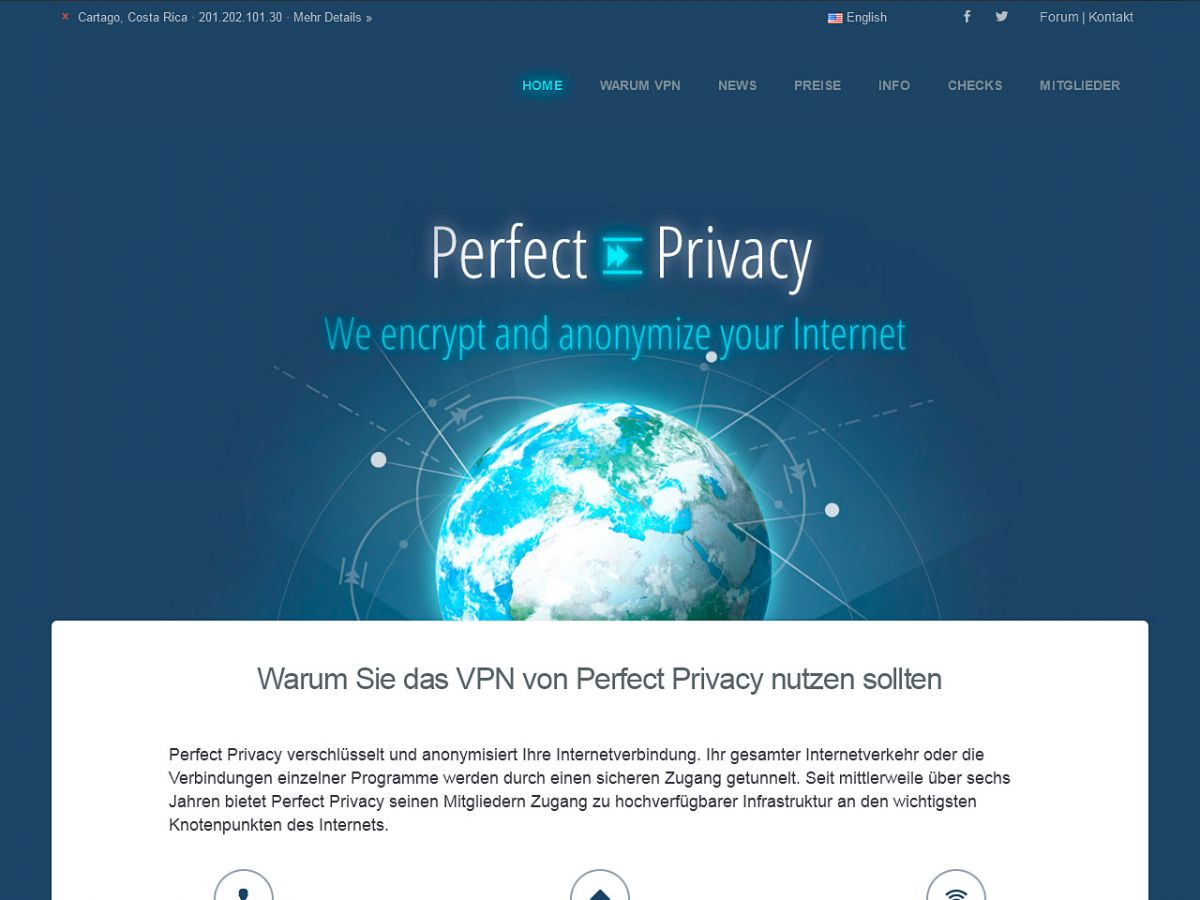 Clients
Windows, Mac OS X, Linux, Android, iOS
Download Limit
no
Filesharing
allowed
IPs
400+ IPs in 23 countries
Pricing

24 months plan: € 8.95
12 months plan: € 9.99
3 months plan: € 11.98
1 months plan: € 12.99

Countries
23
Max Speed
not tested
Protocols
OpenVPN, IPSec, PPTP, SSH2 Tunnel, Squid- and Socks5-Proxyserver
Logfiles
No log files! The only stored data in their system: username+password, e-mail adress, expiry date of user account
Servers
36
Company Location
Switzerland
Encryption
AES-256-Bit, IKEv2, MPPE-128
Payment Methods
Bitcoin, Perfect Money, Credit Card, WebMoney, EgoPay, Cash, MoneyBookers, PayPal, Neteller
Price from
€8.95
Perfect Privacy from a cascading VPN service
Perfect Privacy is a Swiss-registered VPN service provider. Its VPN service is marketed as a premium service and is priced accordingly. Below, we review its network infrastructure, followed by a discussion of how true it is to its name, that is, how well it protects your privacy. Then, we examine its support for file-sharing.
Network infrastructure

Perfect Privacy operates a VPN consisting of servers spanning 23 countries. This is a relatively small network when compared to competitors with servers in up to 200 countries. A smaller network can potentially impact your connection speed. First, if you don't live near a VPN server location, your Internet traffic travels a longer distance before reaching the VPN server. Second, when you are travelling to a country without a VPN server deployed nearby, your connection speed will take a hit.
Besides server proximity, network bandwidth and server specification are additional factors that affect the connection speed. Some VPN vendors deploy their services on virtual machines (also known as Virtual Private Servers) which by definition share the same underlying hardware with many other virtual machines. In contrast, Perfect Privacy VPN servers are deployed on dedicated servers only.

Regarding network bandwidth, 25 of their 39 VPN servers operate at 1 Gbits per second. 12 of the remaining 14 servers operate at 100 Mbits per second or better. These are relatively good network bandwidth capacities.
Perfect Privacy offers both IPv4 and IPv6 addresses. IPv4 addresses are 4 bytes in length; IPv6, 16 bytes. Very few VPN vendors support IPv6. If you want your Internet devices to have IPv6 addresses, Perfect Privacy is a good choice.
Some VPN vendors offer both static and dynamic IP addresses. With static addresses, your Internet devices will have the same IP from session to session. Some high security websites (e.g., financial) require you to specify a fixed IP address which alone has access to your account. Perfect Privacy does not provide static IP addresses because of the risk of breaching subscribers' anonymity.
Privacy protection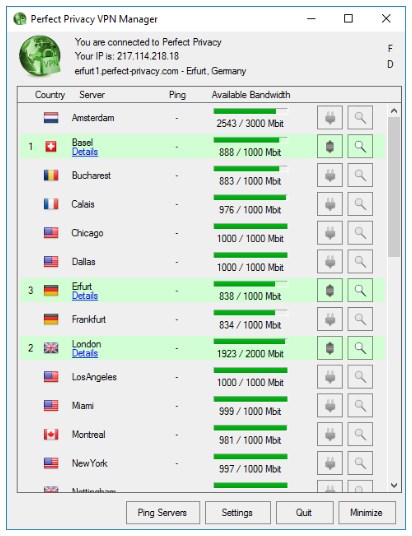 The primary purpose of having a VPN is to protect one's online privacy and anonymity. Security is enhanced by encrypting and rerouting your Internet traffic to a VPN server before sending it to the target destination. At the VPN exit, the data packets acquire the IP address of the VPN server, hence hiding your true IP address and identity.
Cascading VPN Feature
Because the data is encrypted, even your Internet Service Provider (ISP) cannot look inside the secure VPN tunnel to monitor what you are doing. However, your ISP can locate the VPN server to which you are connected. It is conceivable that powerful data analytic software may use timestamps to correlate your ISP's data with the data that reaches the final destination. To provider better protection in such a scenario, Perfect Privacy offers an innovative security feature named cascading VPN.
With a cascading VPN, you can select both an entry and an exit VPN server, and up to 2 intermediary servers (or hops) for connection in the VPN. For example, suppose you are based in the UK, and you want to connect anonymously to a German website. You can specify the UK as your entry VPN server, Egypt and Singapore as the intermediary hops, and finally Germany as your exit VPN server. To your ISP, the data appears to be destined for a UK (not German) host. To the final destination, the data appears to originate from Germany, not the UK.
A cascading VPN not only hides the VPN exit location from your ISP, it provides additional security because the data is encrypted at each hop, potentially adding 3 extra layers of encryption.
Warrant Canary
When you are connected to the VPN, your ISP can no longer log your Internet activities. Instead, the privacy risk has shifted to your VPN service provider. Local governments can subpoena VPN vendors to hand over subscriber data logs. A subpoena is usually accompanied by a gag order: the VPN vendor cannot disclose to any third-party about the existence of the subpoena. To get around this restriction, Perfect Privacy posts a warrant canary on their website. A warrant canary declares that the company has not been served a subpoena for a specific time period. If the warrant canary is not updated or is removed entirely, the subscribers are thereby warned that the VPN vendor has been served a subpoena, although no specifics will be disclosed.
Security-conscious subscribers can appreciate that Perfect Privacy acts transparently regarding potential privacy breaches. For example, it reported that Dutch authorities had seized 2 of their VPN servers in Rotterdam. Yet, subscriber privacy was not breached because the company does not keep log of subscriber Internet activities. Many VPN vendors claim to have a zero-logging policy, but it takes incidents such as a server raid to test whether the policy is properly implemented.
File-sharing
File-sharing is generally a very popular activity on VPNs. It is also very bandwidth intensive, and poses a risk for copyright infringement. Many ISPs, and even VPN vendors, actually throttle file-sharing bandwidth or ban it outright.
Perfect Privacy supports file-sharing on most of its VPN servers. Notable exceptions are the American and French-based servers because, according to its website, file-sharing traffic is blocked by the datacenters hosting the servers in those countries.
Pricing & payment methods
Given that the business entity is based in Switzerland, perhaps, it is not too surprising that Perfect Privacy prices are quoted in Euros, instead of USD. Below, we review its pricing and payment methods which are rather unique in the VPN industry.
First, it offers a multitude of plan options: you can sign up for 1, 3, 6, 12, or 24 months. The 24-month plan is their cheapest at 8.95€, or roughly $9.88 (USD). The 1-month plan is their most expensive at 13.49€, or roughly $14.89 (USD). Their prices are definitely in the high-end among industry players.
Most VPN vendors give you a free trial of its service for between 3 - 30 days. Perfect Privacy, however, offers no free trial. Instead, it has a 7-day money-back guarantee when you sign up for the paid service. 7 days is a relatively short time period to test out the service, given there is no free trial.
How does Perfect Privacy justify its higher prices? First, it does not charge additional for the more advanced features, e.g., IPv6, cascading VPN, port forwarding, etc. Second, you can simultaneously connect any number of devices to the VPN.

Most VPN vendors allow you to connect a maximum of 3 to 5 devices at the same time. If you need to connect more devices, you must purchase additional licenses from them. Alternatively, you can set up VPN on your router which counts as a single device. In this way, all devices connecting via the router are protected. However, not everyone has the time or the expertise to configure routers. Although you can set up Perfect Privacy on a router, you are better off installing the VPN client app on each device. There are 2 big advantages:
You can access the VPN when you are away from home.
You have finer control over which devices to run with VPN enabled.
Although you can connect any number of devices to the Perfect Privacy VPN, you cannot share your account with others. Doing so violates the terms of service.
You can pay for the service using 1 of 60 methods depending on your country. Major credit cards, PayPal, and Bitcoin are all supported. Bitcoin is what we recommend for the best privacy protection.
Interestingly, cash is listed as a valid payment method. According to their website, you can pay for the service by mailing cash to an address in Latvia. Although cash is arguably the most anonymous method, depending on the integrity of your local postal system, your cash-stuffed envelope may or may not reach the final destination intact.
Unless you pay using PayPal, your subscription is one-off only. You need to manually renew your subscription before the end of the time period. To most people, this is very inconvenient. But, from the security point of view, automatic renewal poses a greater risk of data theft because your credit card information needs to be stored for the agreed upon duration. To reduce the inconvenience factor, consider signing up for the 12 or even the 24-month plan.
Finally, help with the VPN service is available via email support and online forums. Given the service is marketed as being premium, it is surprising to learn that there is no live chat support. It is also not clear if support is staffed 7x24.
Summary
Pros:
IPv6 support.
Cascading VPN support.
File-sharing (BitTorrent) support.
Unlimited number of simultaneous connections.
Many payment methods supported, including Bitcoin.
Cons:
Relatively small VPN network.
Expensive.
No free trial.
Only a 7-day money-back guarantee.
No live chat support.