Can I watch american or british TV abroad with VPN?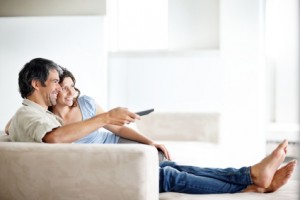 The wide online offers of american and british television can easily be accessed from the homeland of those stations. But this turns out completely different if you try it from abroad: The requested videos can no longer be loaded and an error message appears. This is because of copyrights that forbid the broadcast in other countries than the one the tv station is operating in.
For this reason the stations are providing On Demand services on their sites that cannot be accessed from abroad. This is done by identify the IP adress which tells the provider from which country the user is accessing the service.
With VPN you have the possibility to use IP adresses from all over the world if your VPN provider has servers in the desired country. By connecting to the VPN providers server, you get an IP adress from the server and can connect to the website like if you where living in that country. The website operator can no longer see if you're connecting from abroad or not - and so the blockade is bypassed.
But if you use a SmartTV it might not be possible to install a VPN on the device. In this case, its better to use a SmartDNS Service - it is kind of a modified DNS Server which routes your traffic over a specific country - without the need to install software. Just get a subscription and change your DNS Server in your Smart TV - thats it. More on BestSmartDNS.